Air pollution and municipal waste Two gigantic problems for Indian cities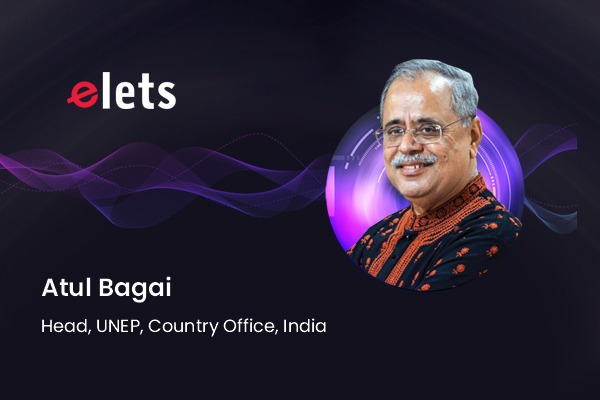 India's journey towards achieving SDG 11.6 by 2030 requires stringent measures to reduce air pollution and improve municipal waste management. More than three quarters of Indian cities do not meet national air quality standards¹; at the same time, cities are struggling to collect, sort and treat waste properly. Through this article, Atul Bagai, Chief, UNEP, Country Office, India, aims to highlight the challenges India faces in dealing with the above mentioned problems and what are the possible solutions to improve the quality of life in Indian cities.
SDG 11.6 aims to manage air quality and waste, which are the two most serious environmental issues facing Indian cities today. In many parts of the country's major cities, such as Delhi, annual average particulate matter concentrations are more than three times higher than national air quality standards². It is important to note that India's national ambient air quality standards are less stringent than World Health Organization (WHO) guidelines for various pollutants. The WHO recently revised its guideline values, reducing the prescribed tolerance for daily and annual averages of PM 2.5 and PM10, making the guidelines more stringent³. Over 7,000 kt of fine particulate matter (PM2.5) emission loads are generated annually from various sources in India⁴. Indian cities generate 55 t / year of municipal solid waste (MSW), of which only 37% is treated⁵. What cause a serious deterioration of the environmental quality of these cities.
Also read: Private participation, citizen engagement and innovation in finance are necessary for municipalities: Sameer Unhale
Air pollution is known to have various impacts on human health, agricultural productivity (in rural areas downstream from cities), buildings and the climate on a regional scale. 1.6 million premature deaths have been attributed to high levels of air pollution in India⁶. It is estimated that more than 30 percent of wheat is lost due to the high concentrations of ground-level ozone in the country⁷. The deterioration of cultural heritage buildings, such as the Taj Mahal, was evident in the past. There are now studies linking high air pollution in India to climate change on a regional scale. While air pollution is an invisible enemy – although noticeable when particulate smog is very dense – waste is a more obvious problem. The increase in waste dumps in the neighborhood or in open dumps raises serious aesthetic problems, nuisance caused by flies and odors, methane production, safety and pollution of groundwater. Unmanaged waste is also contributing to clogging drainage systems and causing urban flooding in many Indian cities. There is also a common thread that connects the issues of air pollution and waste. The burning of poorly managed waste is a common occurrence in many cities, which increases the levels of air pollutants. About four percent of the PM2.5 concentrations in Delhi are believed to have been attributed to waste burning activities in the city⁸.
Cities generate problems and are also the most affected. The high population density in cities guarantees very high exposure to environmental pollutants and associated problems. The sources of air pollution in Indian cities vary depending on the characteristics of the city. In a city like Bangalore, transportation plays a large part in the distribution of pollution, while in Delhi sources such as industries and biomass burning (mainly outside the city limits) also contribute significantly. significant. Cities like Ludhiana, Kanpur and Surat have higher shares of industrial activity due to the associated activity levels. Besides their own local sources, the towns of the Indo-Gangetic Plains are influenced by the burning of biomass that occurs in the surrounding rural areas. However, in southern and western India, the influence of the industrial sector on background air pollution levels is also significant.
Municipal solid waste is both biodegradable and non-biodegradable material. Plastics, the non-biodegradable ones, which are also the most important constituent of marine litter, account for a major share (3.3 mt / year⁹) of 6.9% in total municipal solid waste in India¹⁰. Despite its low per capita consumption of 11 kg¹¹ (global average of 28 kg), India is the 12th largest contributor to poorly managed plastic waste and is expected to become the fifth by 2025¹². The Ganges is one of 10 river systems that transport 88-99% of plastic to the ocean¹³.
Several initiatives have been taken in India to control the two problems. In 2019, India announced the National Clean Air Program (NCAP) to tackle air pollution with a targeted approach to reduce particulate pollution by 20-30% by 2024. Along with actions Nationally, NCAP has identified 132 non-compliant cities¹⁴ for which city-specific action plans are being developed and implemented¹⁵. The central government of India and the government of Delhi have made specific efforts to control air pollution, but the benefits of these interventions – including CNG, metro, advanced BS-VI standards, Shifts in industries to cleaner fuels, and gas-based electricity generation, among others, can be negated by the growth of various industry activities in and around cities. In many cities like Delhi, industries have been moved or switched to gas, but many of them operate and still use coal outside of city limits in windward areas¹⁶. There are coal-fired power plants in many cities which also contribute to emissions. While efforts are underway to convert traditional brick kilns to zigzag technology, many are using traditional technologies, continuing to contribute particulates, including black carbon emissions, to cities' airsheds. . While most people use LPG in cities, a significant population outside of cities depends on biomass for cooking¹⁷. India has also taken important steps to control waste and plastic pollution; the country announced the ban on single-use plastic items¹⁸, a draft EPR (Extended Producer Responsibilities) rules and launched Swachh Bharat Mission 1.0 and now 2.0, which emphasizes providing adequate facilities for solid / liquid and plastic waste management in India. Despite these efforts, the problems of air pollution and waste management have not yet been effectively tackled. This raises relevant questions as to whether the measures taken are adequate, whether there are problems with the implementation and enforcement of rules and policies, and finally how public participation can be strengthened to improve performance. effectiveness of planned measures
Also read: Waste reduction and management for sustainable urban development
There is no shortage of regulations in these sectors, but law enforcement and the implementation of strategies are a major concern. The limited capacity of pollution control boards and urban local bodies underscores the need for technological strengthening to address vigilance and law enforcement issues. Institutional and budgetary capacities must be strengthened to ensure the proper implementation of air quality and waste management plans. Science has a big role to play and must be harnessed to design the most effective and optimal control strategies. In addition to existing measures, additional measures including modernization of the fleet, strengthening of inspection and maintenance systems, electrification of fleets and application of technology in industries will be required for the control of atmospheric pollution. For waste management, fiscal mechanisms and economic models must be developed to treat waste as a resource and develop markets for its management. Alternatives to plastics and the development of recycling capacities will remain the key to reducing the use of plastics and controlling their consumption.
The impacts of air pollution and waste outweigh the costs of controlling them. They not only harm the economic growth of the country, but also cause serious problems for the environment, as well as for human and animal health. Controlling these two issues will not only serve to achieve SDG 11.6, but will also contribute to climate change mitigation through the reduction of short-lived climate pollutants.
---
1. https://cpcb.nic.in/displaypdf.php
2.https://cpcb.nic.in/displaypdf.php?id=bWFudWFsLW1vbml0b3JpbmcvTG9jYXRpb25fZGF0YV8yMDE5LnBkZg==
3. https://apps.who.int/iris/bitstream/handle/10665/345329/9789240034228-eng.pdf?sequence=1&isAllowed=
4. https://sites.google.com/view/smogindia
5. https://cpcb.nic.in/uploads/MSW/MSW_AnnualReport_2018-19.pdf
6. https://www.thelancet.com/journals/lanplh/article/PIIS2542-5196(20)30298-9/fulltext
7. https://www.pnas.org/content/111/46/16319
8. https://www.teriin.org/sites/default/files/2018-08/Report_SA_AQM-Delhi-NCR_0.pdf
9. https://cpcb.nic.in/uploads/plasticwaste/Annual_Report_2018-19_PWM.pdf
10. https://cpcb.nic.in/displaypdf.php
11. https://www.teriin.org/sites/default/files/files/factsheet.pdf
12. https://www.science.org/doi/10.1126/science.1260352
13. https://www.weforum.org/agenda/2018/06/90-of-plastic-polluting-our-oceans-comes-from-just-10-rivers/
14. https://pib.gov.in/PressReleasePage.aspx?PRID=1707867
15. https://pib.gov.in/PressReleasePage.aspx?PRID=1655203
16. https://www.teriin.org/project/source- rapportionment-pm25-pm10-delhi-ncr-identification-major-sources
17. https://www.teriin.org/project/source- rapportionment-pm25-pm10-delhi-ncr-identification-major-sources
18. https://moef.gov.in/wp-content/uploads/2021/03/Draft-Plastic-waste-Notification.pdf
19. https://egazette.nic.in/WriteReadData/2021/230228.pdf
Follow us and connect with us on Facebook, Twitter, LinkedIn, Elets video