"Growing the Game" has always been the hallmark of the SC Golf Association.
Finding new major championship opportunities can be a challenge, says executive director Biff Lathrop, who took over the job when his father, Happ Lathrop, retired in 2017.
But the SCGA (scgolf.org) believes it has found a winner with the inaugural SC Golf Association Public Links Championship to be played Sept. 24-25 at the Charleston Municipal Golf Course.
"We were looking to add another major at some level, but dad (Happ) did such a good job and covered the basics. When you have such a variety of tournaments, there's not much to add. We found that and we'll see how it works. And we think it's a good mutual partnership with the Muni in Charleston," Biff Lathrop said.
Many golfers remember the US Golf Association's Public Links Championship, which ran from 1922 to 2014. The concept was to provide a championship for golfers whose primary play was on public, not private courses. For many years, the winner has earned an invitation to the Masters.
"He almost turned into another American amateur, with a lot of the same competitors," Lathrop noted, pointing out that Colt Knost, now a CBS golf announcer and former PGA Tour golfer, won both titles in 2007. Others Familiar recent public links winners are: Trevor Immelman (1998), DJ Trahan (2000) and Brandt Snedeker (2003).
Lathrop said weeding out candidates for public ties was a challenge for the USGA, but he believes that with modern online registration, that won't be the case for the upcoming event in Charleston Municipal.
It is designed for golfers who belong to eClubs, where they are not members of a club but can post scores online in order to carry a handicap. Entry is open to male golfers 18 years of age or older with a handicap rating of 10.4 or less.
There are six questions you must answer online, and if you answer yes to any of the questions, you are not eligible:
1. Access to the private club – Have you had privileges in a private club (not open to the public) at any time during the current year?
2. Social Memberships – Do you maintain a private club social membership that allows you to play the course at any time of the year?
3. Member Dependents – Does your spouse or parent/guardian belong to a private course and therefore you are permitted to play the course without a guest fee?
4. Golf Course Employees – Have you been employed at a private golf course during the year where you are permitted to golf more than one day per week?
5. Resort Courses – Do you have a resort membership that limits the days resort guests can play?
6. Golf Team Members – As a member of a school golf team, are you allowed to play on a private, non-school owned course at times other than your golf season regularly, including playoffs and championships?
There are a few exceptions for eligibility:
• Military Courts – A player, due to military service, may hold privileges at a facility from which the general public is excluded.
• County and City Courses – A player may be a member of a course open to county or city residents even if it is closed to non-residents.
• Handicap – There are no restrictions on where a player maintains his handicap.
Lathrop said the SCGA has looked at other golf associations across the country that have had successful public link championships and come up with ideas. The 36-hole tournament is limited to 84 entries and the registration deadline is September 29. There are no handicaps or age groups, but the field will be controlled by scores after the first round.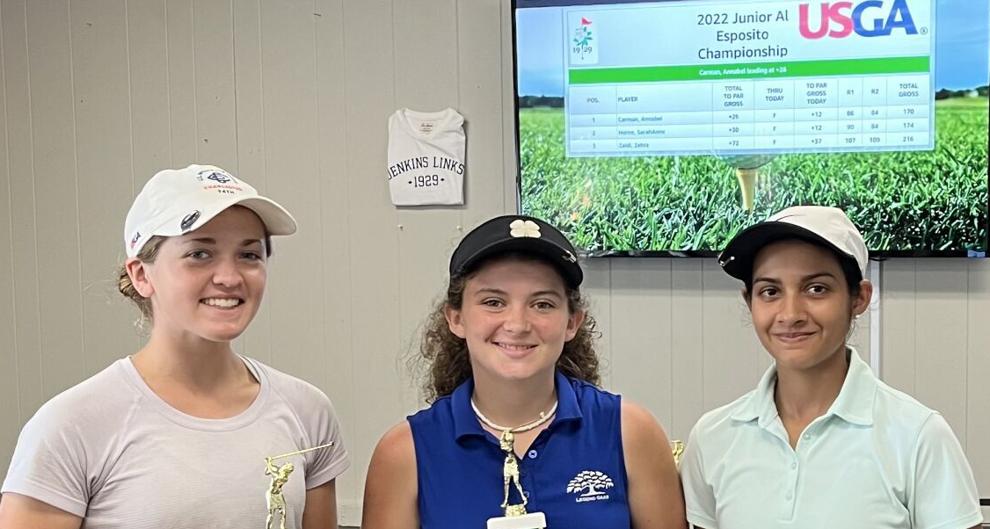 The SCGA is thrilled to once again partner with Charleston Municipal. SC Amateur was held at Muni in 1937 and 1947, when the sponsor club was known as Stono River, with Frank Ford Sr. winning both times.
"With the Municipality of Charleston undergoing renovations over the past two years and redoing the golf course, what better place for a public links championship?" said Lathrop. "Charleston has one of the most well-known municipal golf courses, but there are others around the state. It all went well. They're excited and we're excited."
Charleston Classic
Bishop England and Palmetto Christian will co-host the Charleston Classic Invitational women's tournament at the Rivertowne Country Club on August 29.
Seventeen teams from across the state will participate, including Academic Magnet, Ashley Ridge, Berkeley, Cane Bay, Lucy Beckham, Philip Simmons, Porter-Gaud, Stratford, Summerville and Wando.
CALGA at Snee Farm
Rivertowne's Kathy Joyce shot 82 to win Field Low Gross honors while Rivertowne's Sue Jones posted a 70 to win Field Low Net honors in the Charleston Area Ladies Golf Association (CALGA) game held August 16 at the Snee Farm Country Club.
Other flight winners were: Premier – Robin Moyer, Rivertowne, 86 gross; Cynthia Andereck, Snee Farm, 77 net. Second – Linda Travis, Rivertowne, and Kim Davis, Seabrook, 93 gross; Christine Murphy, Stono Ferry, 75 net. Third – Sheila Moses, Dunes West, 95 gross; Bonnie Foulois, Westcott, 74 net. Fourth – Susan Shoemaker, Stono Ferry, 100 gross; Donnette Potter, Shadowmoss, 75 net. Fifth – Mercedes Papaharis, Rivertowne, and Rebecca Cockran, Shadowmoss, 110 gross; Donna Lee, Shadowmoss, 82 net.
ace
Jean Fest, April 5, Links at Stono Ferry, No. 11, 164 yards, 19-degree hybrid. Witnesses: Steve Van Dyke, Murray Lancer, Brian Summerford.
Manoli Geros, May 16, Links at Stono Ferry, No. 14, 150 yards, 9-iron. Witnesses: Peter Geros, Mike McCraw.
Terry Harrelson, July 3, Legend Oaks Golf Club, No. 8, 147 yards, pitching wedge. Witnesses: James Starr, Brad Childers, Bud Childers.
Diane Harvey, July 27, Crooked Oaks-Seabrook Island Club, No. 16, 92 yards, 6-hybrid. Witnesses: Flo Gilson, Lindy Small, Debbie Mott.
Heath Gunther, July 28, Charleston Municipal Golf Course, No. 4, 155 yards, 7 iron. Witnesses: Paul Gunther, Ryan Walker, Ken King.
Nick Santelle, July 28, Links Course-Wild Dunes Resort, No. 12, 125 yards, 9 iron. Witnesses: Jesse Lake, Jackson Lake.
Denis Wolfe, July 28, Legend Oaks Golf Club, No. 17, 96 yards, gap wedge. Witness: Marilyn Wolfe.
Chuck Riehl, Aug. 2, Ocean Winds-Seabrook Island Club, No. 5, 145 yards, 5 hybrids. Witnesses: Ed Maher, Don Thogmartin, Dick McGuire.
Randy Lambert, Aug. 4, Harbor Course-Wild Dunes Resort, No. 13, 142 yards, 8-iron. Witnesses: George DeBaby, Joe Pickett.
Carol Pierce, Aug. 5, Snee Farm Country Club, No. 7, 103 yards, 3 woods. Witness: Linda Duane.
Chris AnstattAug. 6, Bulls Bay Golf Club, No. 14, 185 yards, 5-iron. Witnesses: David Graham, Mark Lindsey, Mark Lipsmeyer.
Marc MurphyAug. 11, Planting Yard at Edisto, No. 6, 159 yards, 6 iron. Witnesses: Mike Tuffner, Rick Battaglia.
James SanderAug. 13, Ocean Winds-Seabrook Island Club, No. 12, 155 yards, 5 iron. Witnesses: Campbell McLain, Samuel Pelsink.
Dan Kahl, Aug. 14, Crooked Oaks-Seabrook Island Club, No. 16, 139 yards, 7-iron. Witnesses: Gail Kahl, Katherine Sankovich, Mike Sankovich.
Jon FingerAug. 16, Rivertowne Country Club, No. 14, 131 yards, 7-iron. Witnesses: Don Beers, Buck Rogers, Clark Brisson.
Clark Brisson, Aug. 18, Rivertowne Country Club, No. 8, 120 yards, pitching wedge. Witnesses: Roy James, Scott Fischer, Kevin Buckley.
Diane Breunsbach, August 17, Ocean Winds-Seabrook Island Club, No. 15, 80 yards, 7 iron. Witnesses: Laura Dilella, Flo Gilson.
Joe Wilson, Aug. 18, Crooked Oaks-Seabrook Island Club, No. 5, 130 yards, 5 hybrids. Witnesses: Lee Hessberg, James Rinehart, Rich Driggers.