Russian troops deliberately destroy municipal transport in Kharkiv – mayor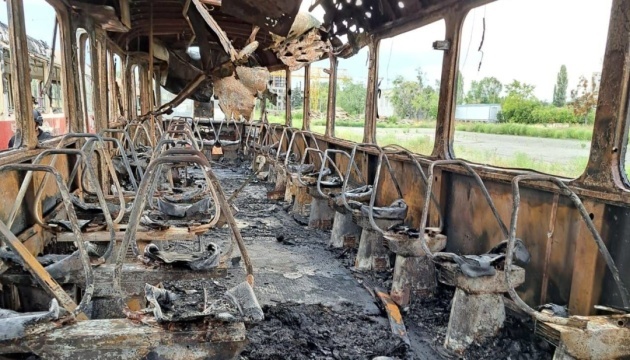 Despite the daily shelling, municipal transport continues to operate in Kharkiv, so the enemy is trying to destroy the rolling stock and infrastructure of the city.
"This [functioning municipal transport] triggers the enemy's aggression, that's why they bombard the city with such cruelty. They are trying to prevent Kharkiv from leading a normal life as much as possible in today's military conditions," Kharkiv Mayor Ihor Terekhov said during the National News Marathon, Ukrinform reports.
The mayor noted that the intensity of the shelling of Kharkiv has increased in recent days. Each MLRS strike brings further destruction to the housing stock.
"Today, Russian troops are bombing Kharkiv with such hatred, with such aggressiveness, such cynical destruction of the city is happening because Kharkiv does not give up, Kharkiv is a Ukrainian city that continues to live. They are deliberately destroying infrastructure to freeze the residents of Kharkiv during the heating season. Our task is to resist," Terekhov said.
As reported, on April 16, Russian troops struck a tram depot in the Saltivsky district of Kharkiv with Tornado MLRS from the territory of the temporarily captured village of Lyptsi.
Around 05:00 on August 17, the enemy launched a rocket attack on the Slobidsky district of Kharkiv. People were not injured.
oh